Categories
Categories
Brands
Brands
Locksport-XPC Expanded Capacity Practice Lock Stand
Product Description
Deluxe "Expanded Capacity" Locksport XPC Practice Lock Stand - The Ultimate
(Locks shown in images are NOT included with this item unless ordered as options)
SEE WHAT'S INCLUDED -- CLICK HERE
For serious practitioners of lock picking, whether it be as a hobbyist or student of the locksmith profession, here is the only practice stand you will ever need! It is ideal for lock picking competition, as well -- thus the "locksport" moniker. Constructed of tough and durable PVC (for the "head" of the stand) and solid aluminum (for the base), it sports 4 over-sized steel thumb screws to assure a tight and secure hold on practice locks, and they can be used in several different arrangements depending on the specific lock you are working with.
Even more important is the fact that this stand is able to withstand the rigors of not only lock picking practice but also key impressioning and lock bumping.
This stand is similar to our Locksport-Pro version, but it has expanded capacity in the sense that it can accept quite a few more lock cylinder types than our original stand. By popular demand, we have modified the "Pro" stand to accept several common deadbolt cylinders which seem to be favorites of lock picking aficionados. We have also retained an important feature of the original version in that our Locksport-XPC Stand can be ordered pre-drilled and tapped for our exclusive Heavy Duty Table Clamp. The clamp can also be ordered at the same time as the stand, as an add-on, in which case these extra tapped holes are included in the price. (The Heavy Duty Table Clamp can be used WITHOUT the tapped holes if you use it in the same manner as an extra heavy duty C-Clamp rather than bolting it to the stand in the normal way).
Why the need for an updated Locksport stand?
To be sure, there are hundreds of different lock cylinders out there and while many of them share more or less "standardized" dimensions, a great many of them are unusually large (a good example is the type of deadbolt characterized by an integrated pin tumbler cylinder and surrounding trim – consider the Weiser 9471 deadbolts popular some years ago).
It would be possible to build a practice lock stand capable of holding virtually every available cylinder style, but it would be unusually large and needlessly expensive. What we have endeavored to do with our Locksport-XPC Practice Lock Stand is to accommodate those cylinder styles that are most commonly used in lock picking practice, assuring that as wide a variety of sizes and shapes as possible be allowed. First off, we wanted to make certain that specific "types" of cylinders that are in wide use be addressed, such as:
Standardized Mortise Cylinders
Standardized Rim Cylinders
Standardized Cam Lock Cylinders with Removable Cam
Standardized KIK (key in knob) Cylinders
Standardized Large Format I-Core Cylinders
Standardized Small Format I-Core Cylinders
Standardized European "profile" Cylinders
By "standardized", we are referring to the fact that all these cylinder types stay true to specific dimensions in order to fit "standard" openings in common hardware. The standard diameter of a mortise cylinder is always 1-5/32 inches. Same with standard rim cylinders. Common cam locks are expected to fit the standard threading prep for such a cylinder, so cam locks "always" fit a 3/4 inch opening. There may be proprietary cam locks, made to fit larger or smaller threaded openings, but they would not be the norm.
Key in knob cylinders (usually referred to as KIK cylinders) are used in a great many deadbolt locks as well as knob and lever locks. You will find a slightly wider variety of diameters when it comes to these common pin tumbler cylinders. We have assured that our Locksport-XPC stand accepts not only the "standardized" variety (usually found in residential grade hardware) but also the larger and more robust commercial cylinders (Sargent, Corbin-Russwin, Commercial Yale, etc.).
Lock picking aficionados often use deadbolt cylinders (by this I mean the inner cylinders removed from common deadbolt locks) for their practice sessions. Our previous stands have not been able to accept commonly used deadbolt cylinders but we have taken the advice of many customers and made certain the Locksport-XPC (which stands for "expanded capacity") can handle several of the most often used types. Among these:
Kwikset 660 and 880 series deadbolt cylinders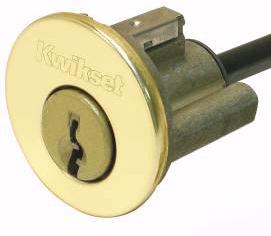 Kwikset Smart Key deadbolt cylinders (those that are not integrated with the trim)
Schlage B-160 and equivalent deadbolt cylinders
MT-5 Mul-T-Lock Hercular Cylinder
CPL-5 Clear Plastic Locks
This is a short list of the lock cylinders our fantastic Locksport-XPC Stand will likely accept. Unquestionably, there will be many other deadbolt cylinders that will fit it, but hopefully this list gives you some idea of its versatility.
Speaking of versatility . . . Our Locksport-XPC can be mounted in a number of ways:
-- Free Standing (fine for lock picking practice)
-- Temporarily mounted to any smooth flat surface with included double-side tape (also fine for picking practice)
-- Mounted to a hard surface with included mounting screws (required for key impressioning or lock bumping practice)
-- Attached to our exclusive Heavy Duty Table Clamp (available as an option)
The Heavy Duty Table Clamp is a great addition to this stand as it allows you to pretty much take it anywhere and firmly mount it to any work surface offering an overhang of at least 1 inch. The clamp provides such a secure hold that you can impression keys and/or practice lock bumping, and the clamp will leave no marks on your work surface.
The Heavy Duty Table Clamp attaches to the stand with two machine screws, providing a super stable and firm grip. The clamp itself is made of heavy steel with a nice anti-scuff finish and the grip range can be easily adjusted, allowing for as wide as 2.25" down to as narrow as 1/4". If you add this clamp as an optional accessory, your stand will come pre-drilled and tapped to accept it. IF YOU ORDER ONLY THE STAND, please consider whether you may or may not want to order a clamp later on. If you think you might, you should add the optional "pre-drilling" for an extra buck, then the stand will be ready to accept the clamp when you decide to buy it. Should you purchase the clamp separately at a later date and you did not order your stand pre-drilled, do not lose hope. The clamp can just as easily be used in the fashion of a C-Clamp to hold your stand firmly in place as shown here:
(1) Locksport-XPC Stand with 4 Over-sized Steel Thumb Screws
(1) "Cam Proxy Spacer" (this is used in place of the cam on cam locks)
(1) Mortise Cylinder/Rim Cylinder/CPL-5 Adapter Ring
(1) Pkg Mounting Screws and Double Sided Mounting Tape
Product Reviews
Find Similar Products by Category